How to solve Connect Failed error?
Latest edited on 2023-05-31
This article will guide you to solve the error Connect Failed when connecting to a mobile X-VPN. If you encounter connection problems when using X-VPN on computers, routers, or other devices, please check this article.
Connect Failed contains multiple subcategories of errors, corresponding to different causes and solutions. You can click on the error report details, and then solve the problem according to the following steps.
1. How to Find Error Code Details
Please click the Error code character at the bottom of the Connect Failed pop-up window to get the error code details.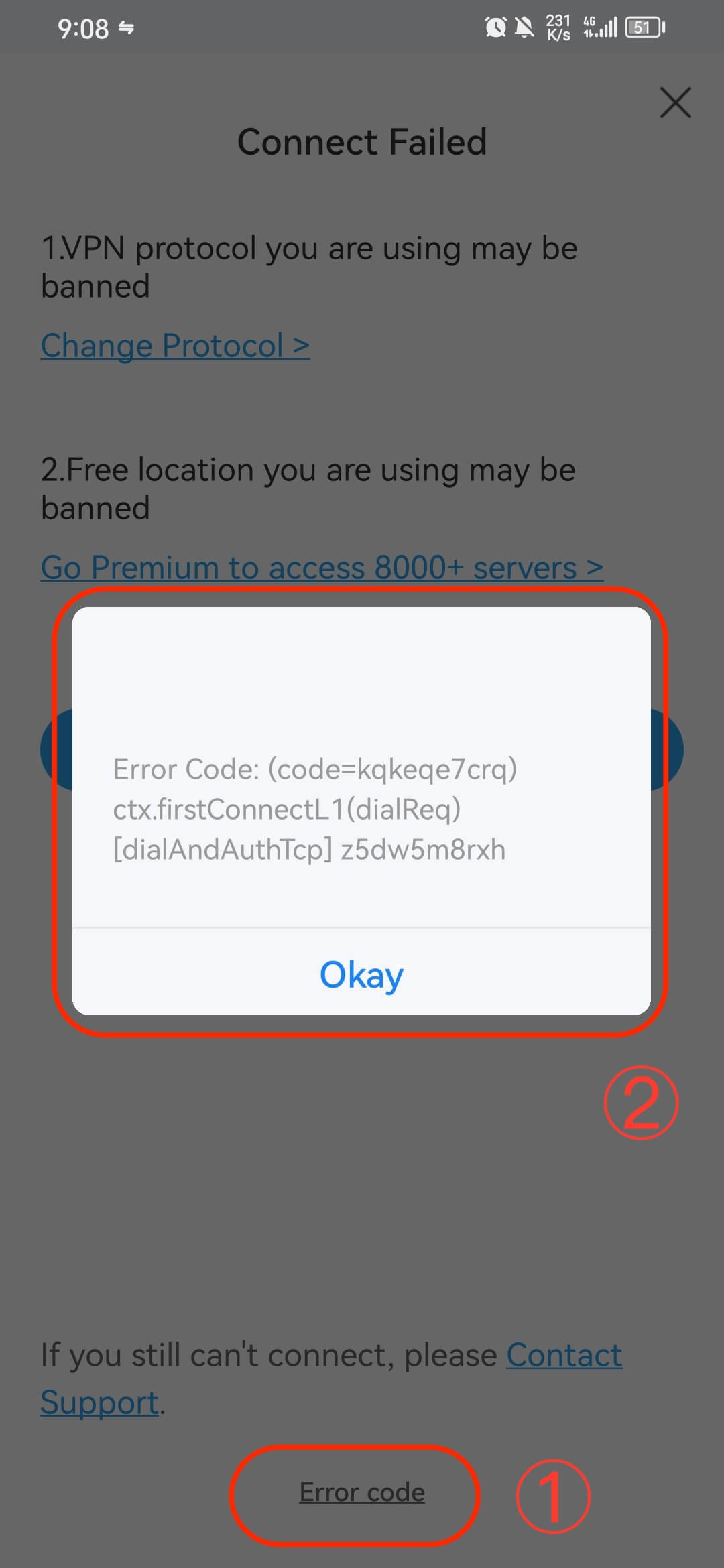 2. Common error codes and solutions
❑ kqkeqe7crq
This issue is related to network firewall blocking. Please try these well-received protocols M, C, D, E, B, and A one by one.
❑ jcqwah8dnr,all ping lost,h2vt5qbt9r MultipleHop all config failed
This issue is related to network firewall blocking.
For free account users, please connect with protocols D or E. If they cannot solve the problem, please try to connect to the Support Server. When you can successfully connect to the support server, it means that your network firewall has shielded the IP of the Free Server. We recommend that you try the 7-day trial for a better connection experience.
For premium account users, please update your X-VPN to the latest version to try and contact us. We will conduct network diagnosis and give targeted solutions for you.
3. Common device OS-related issues
❑ zgzrzcmbg9, jj8uns8v6m, cannot set route
Please restart your phone or reinstall X-VPN to solve this problem.
❑ DeadObjectException(Android)
This issue may occur when your device is running low on storage or memory. Please make sure you have enough storage space or running memory, restart your phone, and try to connect to X-VPN again.
❑ NoVpnConnectionPermission
This problem may occur when you have not installed the VPN certificate correctly. Please uninstall the current X-VPN and follow the installation guide to allow the certificate installation.
If the problem is still not resolved after trying the above methods, please contact us. We will diagnose the problem and give you a targeted solution.
Was this article helpful?
Thanks for your feedback!
Why wasn't this article helpful?