Save 60 percent on the X-VPN Christmas sale
X-VPN Christmas Sale is on: save 60% off
Dec 15, 2022

|

4 mins to read
Grab the best-ever price of X-VPN. 60% off on a 1-year premium plan.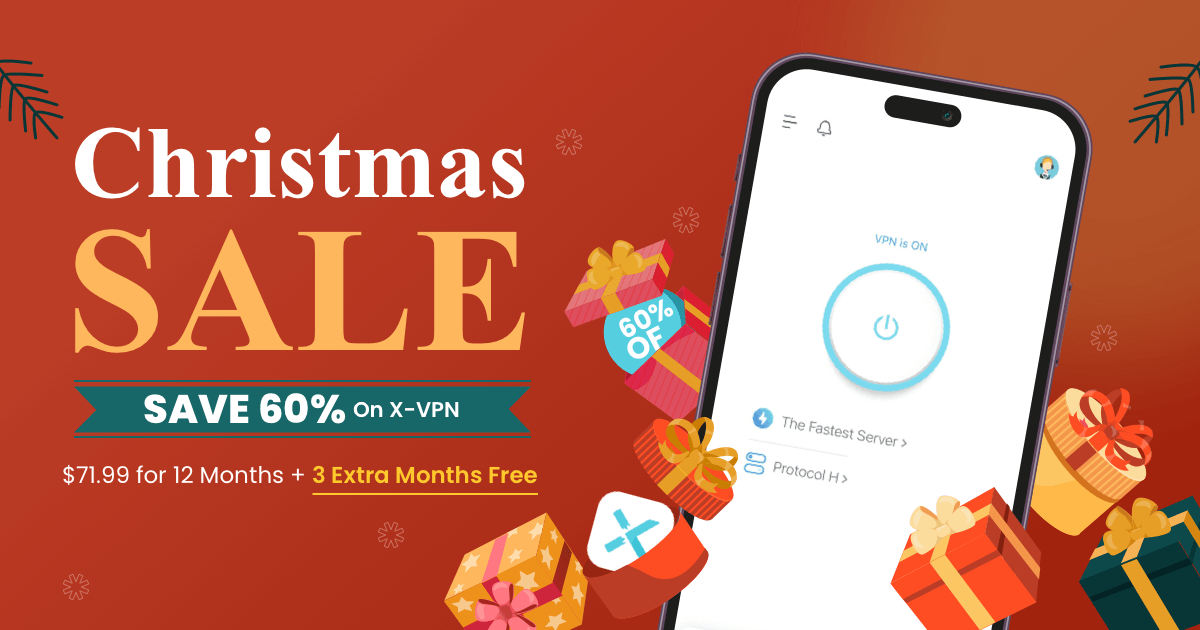 Now that Thanksgiving is over and we can woof you a Merry Christmas!🎄
The best-ever price of X-VPN:60% off!
As Christmas is knocking on your door, this is the time to spend the holidays with friends and families and exchange gifts and merry greetings. If you are busy all year, this is the perfect time to rest well and have a happy time.
Do you need a VPN for this special time? X-VPN provides VPN services for iOS, Android, Windows, Mac, Chrome, Linux, and other devices. A better option is installing X-VPN on your home router, and when all the friends and families come to your home, they can share a smoother network environment.
X-VPN's features and performance put it in the same class as the top VPNs, and the cheapest plan so far averages $4.79 per month, which means you can get a full year of premium for the price of a cup of coffee. In addition to the monthly and 6-month plans, we have launched the 15-month plan. You'll pay a one-time upfront payment for the more extended plans, but it considerably reduces the average monthly cost. (The 15-month plan is to subscribe to the yearly plan and enjoy three extra months for free)
Budget-friendly long-term plans
X-VPN now provides three plans to meet more personalized needs. The three plans are the monthly plan, the 6-month plan, and the yearly plan. It must mention that you can use the yearly plan with the greatest discount for free for three months. (The 6-month plan is only available on the official website)
Encryption and tunneling protocols
X-VPN features AES 256-bit encryption, the same cipher used by military and financial institutions. This unbreakable form of encryption makes X-VPN users feel safe indeed.
Blazing-fast speeds
X-VPN connects to servers quickly, and the connection is solid and reliable. There are currently more than 8,000 servers in more than 374 locations, a massive number of servers that are unmatched by other products on the market. And it is still expanding continuously. If your location cannot be used, we are willing to listen to your feedback and find a more effective solution as soon as possible to meet your needs.
Available on all major platforms
One account covers up to 5 devices at once. So you can set up our app on your router at home. No matter what device you have, you should be able to run X-VPN. It works on all major platforms, including iOS, Android, Windows, Mac, Chrome, Android tv, and Router.
No IP or DNS leaks
X-VPN has no IP or DNS leaks. However, the protocol we developed uses ABCD naming, which makes it difficult for people to decipher the technical complexity, and your real IP location will not pop up quickly.  We encourage you to test it out for yourself, and you can connect to a server in either region and see only that country as your assigned IP address location wherever you go.
Helpful live chat for 24 hours
We're available through instant live chat and email to help you set up and troubleshoot. If you encounter any problems, it is recommended to contact us in the live chat, which can answer questions quickly and accurately.
Chat starts with a dialog allowing you to send frequently asked questions, which will answer your question. You'll quickly get automated replies from bots you've set up, and it's easy to connect with a real person if you have further questions, 24/7 real-time customer support for you. We also have a help center with helpful guides and answers to frequently asked questions.
30-day money-back guarantee
If you're unsatisfied with our service, we'll refund your payment without any risk and no hassle.
All plans come with a 30-day money-back guarantee, giving you plenty of time to test the service and see what works for you. If you prefer a free trial, you can get a 7-day free trial by subscribing via mobile or desktop.
Exclusive streaming and gaming servers
During Christmas, you must not miss the excellent streaming media. X-VPN can meet your needs if you are looking for a VPN and enjoy watching the World Cup finals. X-VPN is reliable and a perfect choice for streaming enthusiasts.
X-VPN can stream Netflix, Hulu, HBO Max, Amazon Prime Video, and Disney+ on mobile and desktop, as well as platforms that have rights to stream this World Cup, including but not limited to: TOD TV, beIN Sports, Fubo TV and so on.
And it's possible to choose from streaming-optimized servers in countries including the US, the UK, Japan, Singapore, UAE, and other popular destinations. Moreover, the speed is enough to stream in 4K (UHD) without noticeable buffering.
Don't want to miss the grand finals this weekend! Use X-VPN immediately, access all playback platforms, and have a complete viewing experience.
Kill switch
X-VPN has a kill switch to protect your information when your VPN connection drop. It prevents accidental exposure of your activity by cutting off your internet connection. So you don't have to worry that your personal privacy is still fully protected even in the most critical situation.
No log
New users only need to sign up by email. X-VPN does not keep any logs that can track your internet usage, and it only collects the minimum data required to run the service and comply with applicable laws.
The New Year is about to open, and X-VPN will accompany you to spend a happy holiday. We specially launched Christmas offer, the maximum discount of the year, up to 60%!
Follow Us on Social Media
Access anything anywhere anonymously with X-VPN
24/7 one-one live chat support

Ultimate protection for 5 devices

Access to all worldwide contents

8000+ servers at 225 locations
Get X-VPN Now
30-DAY MONEY-BACK GUARANTEE