Secure your privacy on Twitch with X-VPN
Secure your privacy on Twitch with X-VPN
Oct 15, 2021

|

3 mins to read
Twitch has confirmed a data breach recently. Streamers' privacy was invloved.
Prime Gaming is Twitch's built-in subscription content joint with Amazon. It helps to support users' favorite streamers. It also provides users with a variety of games and in-game treasures every month, as well as many other benefits.
Earlier this week, Twitch has confirmed that "a breach has taken place" via Twitter and they are working on it.
With the issue of data leakage, discussions about the security of the Twitch platform and how much money the top streamers make on the platform have also set off one wave after another on social media.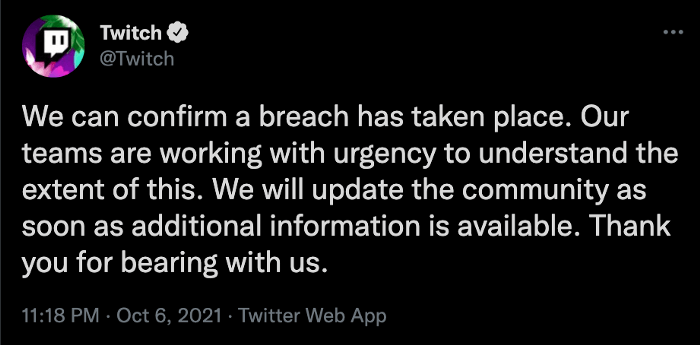 Tweet from Twitch official. Image credits: Twitter.

Hackers use the leaked information to spread more data about Twitch itself on the Internet, rather than personal information, passwords, or email addresses. On Twitter, there are also constant tweets attacking content producers and ridicules that "maybe some streamers can make more money from such incidents".
In fact, how much that Twitch streamers can earn is inherently controversial. Top streamers are constantly being recommended to the user's field of vision. Unlike YouTube's algorithm, Twitch does not take the content and audience's degree of adaptation as the direction, because a small amount of the streamers has brought most of the benefits to the platform. Those secondary and even niche channels have not received enough care and support.The superficial phenomenon of this data breach reflects Twitch lacks its own data security work but as a small streamer and a member of a huge community, everyone should choose a safer way to circumvent the risk of data leakage to the greatest extent possible in the early stages. Many Twitch streamers use VPNs to protect their online privacy, improve performance, and protect themselves from special attacks. Some people even use VPNs to access geo-restricted streaming platforms and games. In addition to supporting streamers' HD live and a smooth gaming experience with the help of VPN's own characteristics, this way also greatly serves Prime Gaming.Watch prime content with X-VPN. All rights reserved. Since Prime Gaming is available in specific areas including the US, Canada, Mexico, United Kingdom, Germany, France, Italy, Singapore, Japan, etc., if you are in other regions, you need to take many steps to solve the problem of not being able to use Twitch Prime. However, X-VPN can fundamentally solve the problem of regional restrictions with one click. In some games, you will unlock new areas as you level up and complete tasks. But your real location may cause certain games to lock you down. In fact, it is not games that are restricted, but streaming platforms. For example, Twitch is prohibited by countries to stream content.If you want to stream your game for a popular game or on Twitch blocked in your country, then a streaming VPN is the perfect solution. Regarding games, X-VPN provides a stable connection with no upper limit on bandwidth, which magnifies the effects of game streaming and the advantages of Prime Gaming.A good VPN is to maintain the playback speed and picture quality as much as possible on the basis of security encryption. Get X-VPN now:App Store|IOS usersGoogle Play|Android users
Follow Us on Social Media
Access anything anywhere anonymously with X-VPN
24/7 one-one live chat support

Ultimate protection for 5 devices

Access to all worldwide contents

8000+ servers at 225 locations
Get X-VPN Now
30-DAY MONEY-BACK GUARANTEE