Introducing the most powerful VPN for AppleTV now
Introducing the most powerful VPN for AppleTV now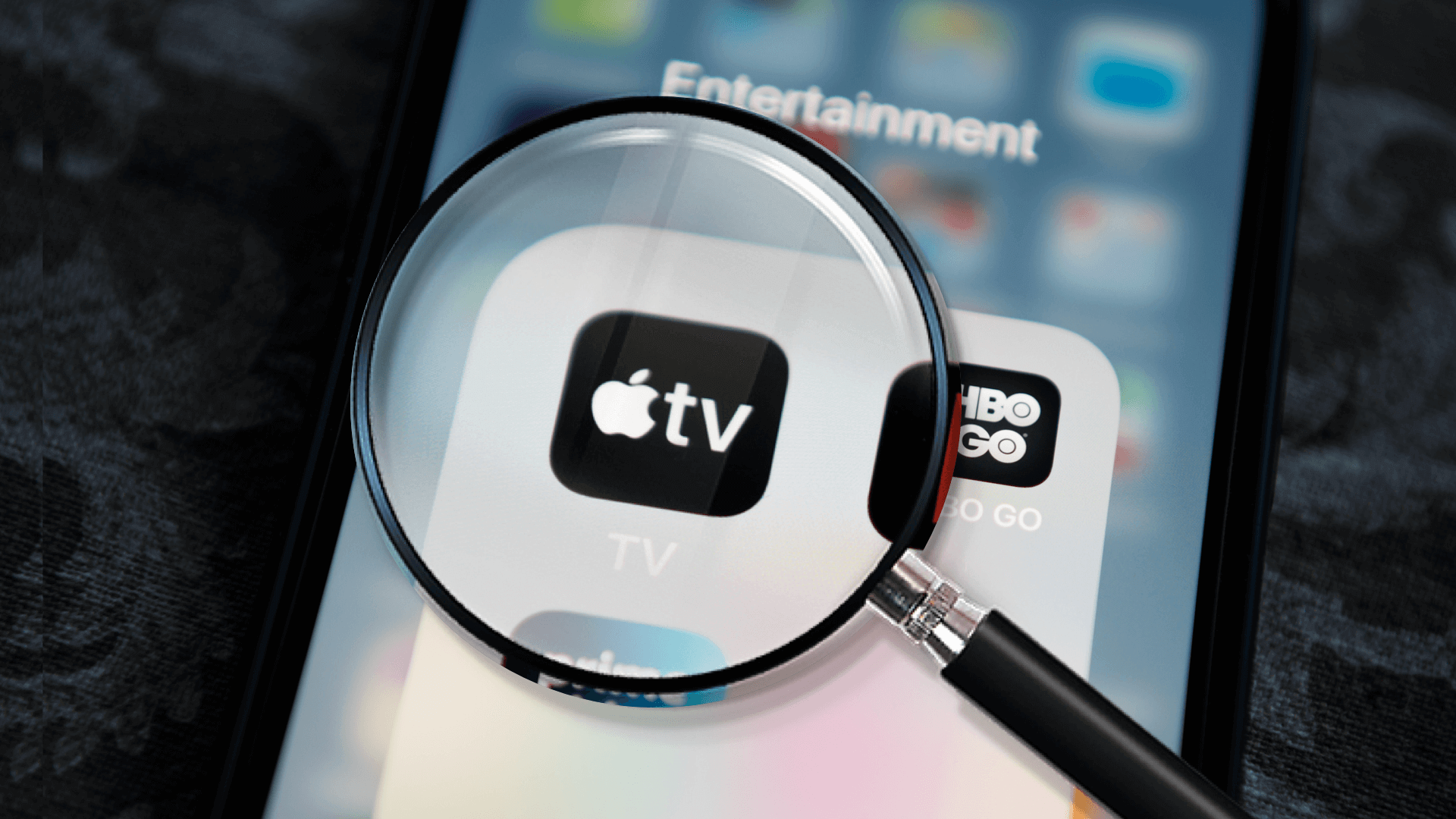 Say goodbye to tricky router setups. X-VPN has launched a native application for Apple TV and you can download the X-VPN app directly from the Apple TV Store. No need VPN router configurations or complicated setup, it's as easy as using the app on your phone.
Keep reading to learn what X-VPN for Apple TV is offering:
Exciting Features of the X-VPN App for Apple TV
Powerful Streaming Servers
X-VPN provides over 1000 dedicated servers for global streaming. We optimized servers for more than 13 popular platforms such as Netflix, Hulu, Amazon Prime Video, and BBC to provide faster unblocking and a more stable audio-visual experience.
Protocols for Unblocking and Security
X-VPN also supports 11 protocols on TV to ensure unblocking of all types of content and the security of your data. If you have higher pursuit of streaming speed, we recommend using UDP and TCP.
Kill Switch
X-VPN on Apple TV also supports Kill Switch. If your VPN connection happens to disconnect accidentally, the Kill Switch feature will automatically block any internet connection, ensuring that your data remains safe and protected.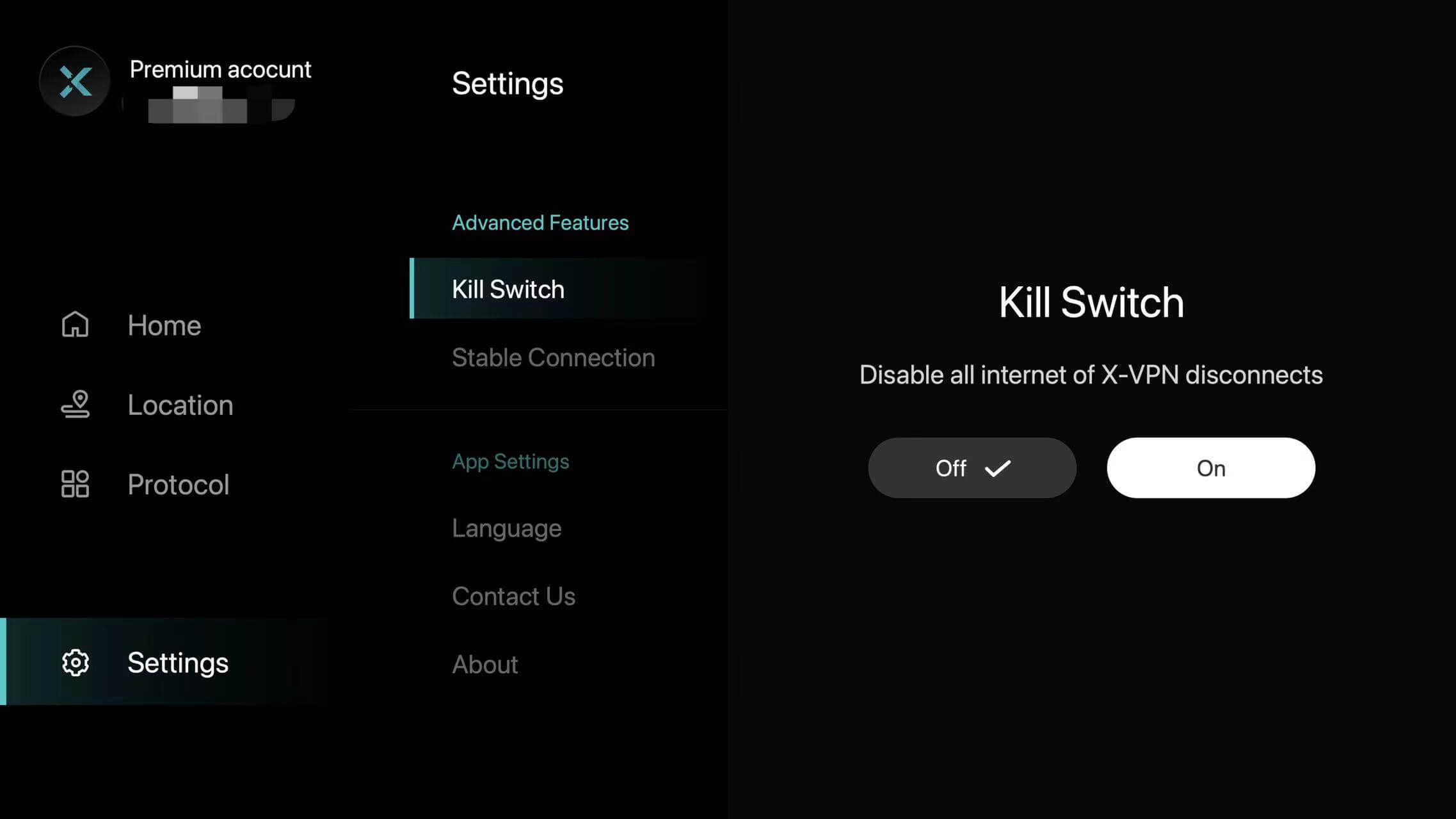 Easy Operation
Finding and connecting to the perfect server is now easy with X-VPN. Use your TV remote or iPhone keyboard to effortlessly choose server locations on your Apple TV.
If these features haven't convinced you yet, no problem, let me continue to explain why X-VPN is a good choice.
Why X-VPN is a good choice for Apple TV?
In the past, setting up a VPN on your TV required multiple steps, and people found using a VPN difficult. But in tvOS 17, Apple TV supports VPN apps natively. Just download the X-VPN app from the App Store, log into your account, and connect to the server - no complicated configuration is required, it's that easy.
But what sets X-VPN apart? Firstly, it provides extensive server options and diverse protocols, ensuring comprehensive security protection. You can select your preferred server location based on what you need, whether it's to access your favorite platform or unlock content from a specific country. This level of customization guarantees an enhanced overall streaming experience.
Beyond entertainment, using X-VPN can protect your sensitive details like emails, passwords, and payment information from potential exposure. X-VPN also hides your real IP address, providing a protective shield against anyone trying to monitor your online activities.
How to Set Up X-VPN on Apple TV?
Having explored the advantages of X-VPN on Apple TV, let's now walk through the steps of setting up X-VPN app on your Apple TV. Follow these simple steps to integrate X-VPN into your Apple TV experience.
1. Upgrade your Apple TV to tvOS 17 and download X-VPN for free from the App Store.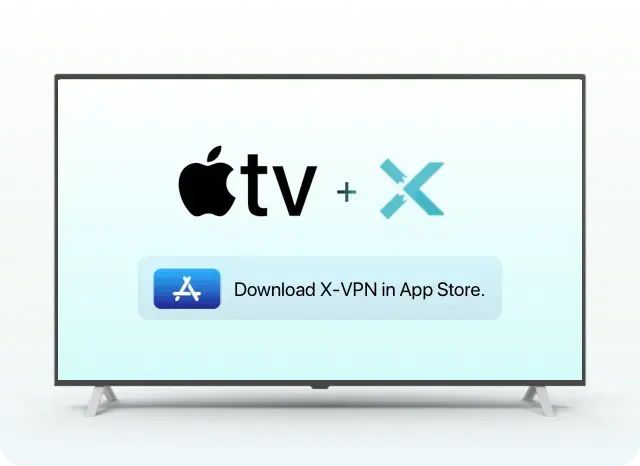 2. Launch X-VPN on your device and sign in. If you are using the X-VPN free server now, we highly suggest to try with a premium account. You can use all dedicated servers without any restrictions, and can enjoy your favorite content on five devices including Apple TV at the same time.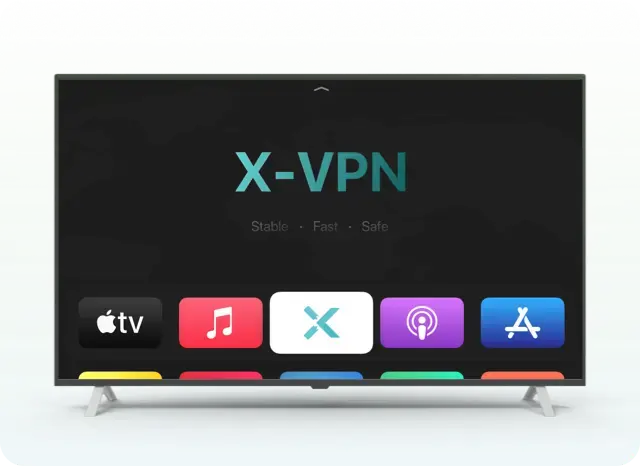 3. Click the connect button, and you're all set.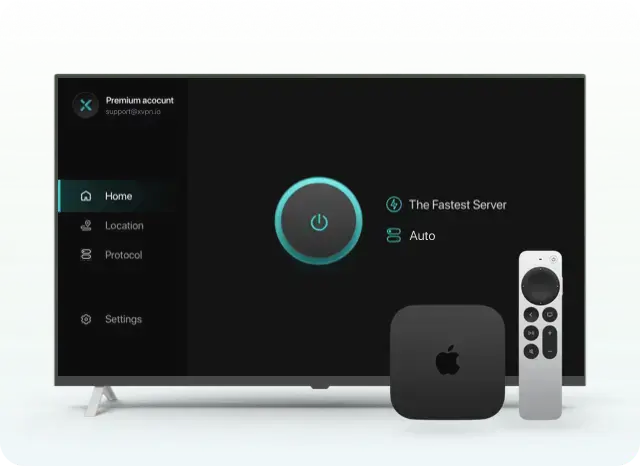 We're excited to expand our service to Apple TV and offer enhanced protection for all users. Our app is designed to boost your streaming experience while ensuring privacy with an easy setup that is straightforward to follow. Say goodbye to lagging streaming and potential privacy risks by downloading the latest version of X-VPN now.
Follow Us on Social Media
Access anything anywhere anonymously with X-VPN
24/7 one-one live chat support

Ultimate protection for 5 devices

Access to all worldwide contents

8000+ servers at 225 locations
Get X-VPN Now
30-DAY MONEY-BACK GUARANTEE